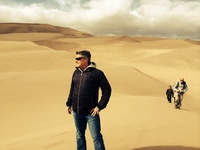 Geordy Hutchinson
Managing Broker Vacation Rental Manager
Like many, my parents found Wolfeboro while on vacation and never left.
I grew up in Wolfeboro, attended local schools, graduated from the University of New Hampshire and love New Hampshire.
As a high school senior, I became a NH Licensed Real Estate salesperson and before finishing college, had my Broker's license. Early in my career, I realized that helping people vacation in the Lakes Region was what I enjoy most and started building relationships with customers and clients that continue today.
It is always such a pleasure to hear a familiar voice on the phone calling to check about dates at their favorite vacation spot or to find out about a new one. Whether it's helping an owner anwswer a question, launch a boat or teaching a customer's children to waterski, I go above and beyond.
When I am not working in the office, you may find me tending to my farm, cooking for a crowd or spending time with family.